Massages
Traditional Thai Massage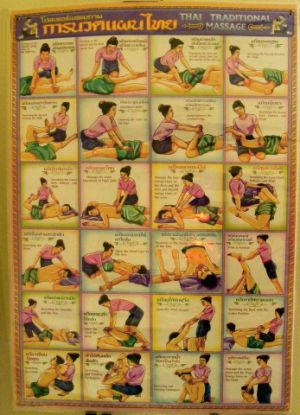 The Traditional Thai Massage is an energy work, which has (same as other eastern methods) the whole human, body and spirit, in focus. This is practiced on very low futon beds. That allows the masseuse to apply her body weight optimal and to achieve high benefit with transfer of pressure, force and energy. It is performed via acupressure with a special procedure, in which the body is getting streched, stroked and kneaded and thereby gets fully relaxed. Energy knot points of the body are handled with fingers, elbows and knees and a long-standing physical wellbeing is reached. The techniques of traditional Thai Massages affect the whole body as they increase the mobility and flexibility, beak superficial and deep tensions and leave the natural body energies free again.
Aroma Oil Massage
The Aroma Oil Massage derives from traditional Thai massage techniques and is performed with preheated oils. Palmar surfaces and thumbs stimulate pressure points on the energy lines, revitalize musculature and improve blood circulation. As a full body massage with stroking movements combined with gentle pressure this massage provides a wonderful relaxation with fragrant oils.
Classic Massage
The Classic Massage is built up of the combination of Traditional Massage, without bending and streching, and Oil Massage.
Herbal Massage
Supplemental to the traditional Thai massage the musculature is stimulated via special –in steam heated- herbal balls. Most discomfort is allayed in a very unique acceptable and effective way. The warm, steaming herbals act also on skin and support its tenderness and perfusion, particularly on muscle pain and inflammations.
Back and Neck Massage
The massage concentrate on zones of back and neck to balance especially stress which originates from sitting practice.
Foot Reflex Zone Massage
The classic Foot Reflex Zone Massage is based on the theory that for every area of the body and for every organ there is an equivalent reflex point or zone at the feet. By embracing these points and zones hardenings and blockades anywhere in the body can be solved.
Face Massage
The skin is cleaned and refreshed with a soft peeling with natural essences. By energy compensation along and trough meridian lines and nerve pressure points this treatment excite perfusion, relax musculature and remove extinct skin sheds. Subsequent you undergo your relaxing Skin Massage.